A few weeks ago, while waiting in line at CVS, a man behind me tried to get me to help him make the pharmacist smile. He didn't appreciate my insistence that there was no need for her to smile, and he spouted some cliché about the number of muscles associated with different facial expressions. After talking to my best friend about it, I decided I needed something to hand to such well-meaning assholes in instances like this. I created this tiny zine, and shared pictures of it on Facebook, as I'd been sharing blog posts and comics about the same issue. There was a lot of positive feedback from women who've received such comments, and a few questions from men who didn't understand why telling someone to smile wasn't nice. Men that I'm glad I got to have that conversation with.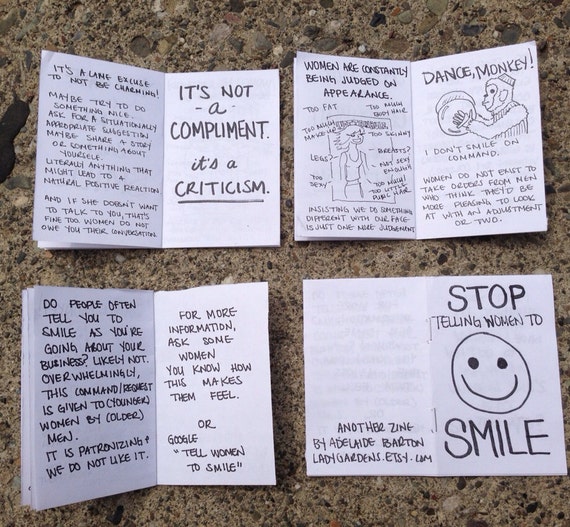 Not long after that, I posted a picture of a sign (that I may or may not have painted) addressing the root of street harassment. People largely understand that yelling insults or sexual requests at women on the street is behavior we generally do not like but there is a whole other subset of folks, men, who think that it's a good thing to tell a woman she has "nice legs." I was told this, earlier this summer, by an old man maintaining the bottle return machines at a grocery store. I don't recall if I said "yep" or "thanks?" but I do recall wishing I had said "Yes! They're really fantastic! Without them, it would be so difficult to walk anywhere!" In response to my clear lack of gratitude toward his "appreciation" of my legs, he responded "That's a compliment, baby!" and proceeded to tell me I could be a model. This is probably the ultimate "compliment" when your value is directly associated with your looks. I've held very still for photographers and artists. I've "modeled." I don't count it among my achievements.
Anyhow, I posted this picture on Facebook:
and a large conversation erupted. Friends took issue with the word "harassment," insisting it was a mere annoyance. Friends also took issue with the idea that they shouldn't comment on the appearance of others. I'm not saying it's never appropriate to comment on the appearance of a stranger. There have been times when I've welcomed such comments, but they've always quickly moved away from my body or face to a neutral territory such as crafting or old movies. And the person giving the comment did a stellar job of not  making me feel like they were trying to have sex with me. And it had been a light day for street harassment. Those times are the exceptions. Generally, I really don't like it when people I don't know comment on my appearance. Be it the dude walking by on the street who loudly declares in crude language how enticing he finds my outfit, or the guy passing me in the shoe store who tells me he thinks I'm beautiful. Both interactions make me feel weird and self conscious, in a bad way. I asked both men to not comment on my appearance (the first guy told me he can say whatever he wants, the second guy seemed surprised but receptive). These things kill community. I no longer want to have any conversation with a stranger who has started out by commenting on my looks. 
So after debating this very personal and widespread issue on Facebook all day long, getting exasperated and calling in some feminist backup, and reaching a point of understanding with the parties who had expressed confusion, I receive a very long Facebook message from a dude I went to undergrad with.  A dude whose writing I usually enjoy, and whose opinions I usually respect. This was not the case. 
I think the fact that he messaged me privately about this was really shitty. He's brought up a lot of things we'd addressed in the conversation under my sign photo. He's talking about issues of sexism like it's not an area I'm familiar with, and he's making it clear he can't identify his privilege. He's telling me that the problems I'm addressing aren't really problems at all and that I'm fighting sexism wrong. You know, because there's only one right way to fight the patriarchy. After some sentences of introduction, indicating that he's been following along with the discussion, that he doesn't want to change my mind and totally respects me, he began:
"I think I want to say that I believe you are off mark in regard to your recent posts on street harassment.
Street harassment and (non-consensual) objectification are very much real, serious issues, but while I am at least as much an advocate for both feminism and equal rights for all as the next informed, enlightened, sensitive, considerate equal right's activist, this (albeit presently small) movement toward vilifying the celebration of (potentially unknown) others in public is alarming even to me."
Vilifying the celebration of (potentially unknown) others in public. If that isn't the most flowery defense of street harassment from someone who doesn't understand what it's like to be a woman walking by groups of men at bus stops on hot summer days, I don't even want to know what is.
Next comes a paragraph of about 200 words explaining why the structure of my argument is "troubling." Finding opportunity, somehow, to remind me that he's a supporter of feminism. It's difficult to read. I can't even read it straight through now, and it's been over a week.
Then, he moves on to another paragraph of about 200 words that really cements his denial of his male privilege.
"…Claims such as, 'telling someone to smile subverts the validity of their feelings to a position inferior to the validity of the speaker's viewing pleasure,' or 'commenting on a stranger's appearance is street harassment' universalize an unlikelihood. The claims are true in plenty of instances — and the high frequency with which those instances occur is indicative of a serious socio-cultural problem — but it remains the case that the exception to the commonplace is, in this context, harassment, not non-harassment. That is to say, what is normally occurring when one person comments on another's appearance (to that person) would not be perceived as offensive to anyone involved, nor to a vast majority of onlookers polled (I'm far from believing the public is always right, but it is a sort of democracy we live in)." (Emphasis mine.)
That he so confidently asserts that my lived experience and the lived experience of all other women who echo my concerns, are the "exception" is so weighted with condescension, and, for the millionth time, a clear denial of privilege, is cringe-worthy. Third 200-word paragraph:
"The problem with true street harassment is not that one person feels at liberty to attempt to compliment another, it is that performing the action of commenting on someone's appearance, especially if is a male doing so to a female, reiterates the culture of objectification that often treats women as sex objects (more so than it does men). To take issue with the words spoken instead of the structure in place that allows some men to feel comfortable acting in inappropriate ways is to treat a symptom of the problem instead of the problem itself. Harassment itself seems to be the troubling issue that needs to be addressed, and if it were solved it would by extension resolve many concerns raised by the anti-street-harassment movement. Similarly, if sexism as a whole were somehow abolished, harassment would be much less of an issue. The specificity of the movement seems to be attacking a hangnail on the hand that is, to put it verbosely, the power structure enabling men to be jerks."
Oh, did I miss Western Medicine's discovery of a sexism antidote? Because of course it'd be great to "somehow abolish … sexism as a whole," but thus far, we can only do what we can do. We do treat cold symptoms despite a lack of a cure for the cold itself because we want to stop the cold from spreading.
"Fourth, currently this cause actually does harm. By focusing its aim primarily on men, the anti-street-harassment movement (in current practice) implies that so-called complimentary actions from unknown males are of a harassing nature more often than they are not. … But by simultaneously focusing almost exclusively on this admitted majority of instances while also universalizing the claim that instances of this sort are always (or almost always) of a harassing nature, this cause incriminates the actions of even those public complimenters — men and women alike — who everyone would judge not to have performed harassment. The message might disincline the occasional iffy male perpetrator, but it equally inhibits everyone else (dare I say a greater number of people) from performing actions which realistically have the potential to genuinely improve another person's day."
To think that abolishing all comments about a stranger's appearance would somehow make the world a worse place is, at this point in such a message, to make a bronze cast of your denial of privilege and donate it to the Smithsonian. Sheesh. With all his insistence on harassing being the exception to the rule with regards to street comments, you think he'd be able to translate such logic to believing that men who are the aggressors of street harassment are the exception to the "men who exist" rule.
Every time I read an article online written by a woman concerning her experiences with sexism, I can tell how much traffic the article has received by the amount of "mansplaining" in the comments. I love Megan Milanese's description of mansplaining in her article on "fauxminism": "A feminist man should be able to understand the difference between mansplaining and simply explaining something while simultaneously being a man. The difference is the invalidation of the marginalized person's expertise and experience as well as the general patronizing or condescending tone."
I'm not making things to limit the freedoms of men. I'm making things to ask people to consider their expectations, and the effect of their words on others. If this puts someone on the defensive, they are exactly a person who is in need of some self-reflection.